Inscription aux études de médecine vétérinaire, Registration for veterinary medicine studies
Tabs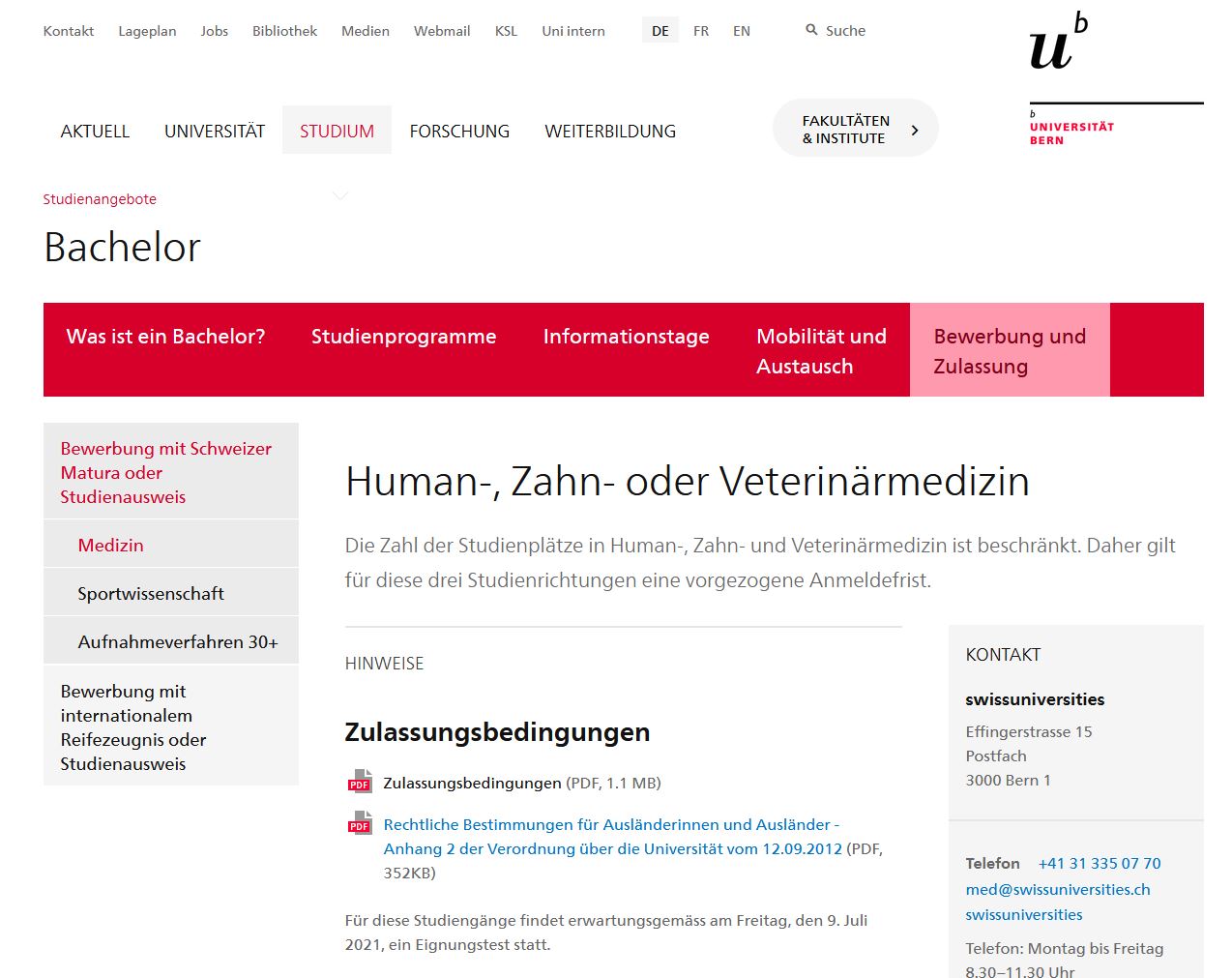 Zulassungsbedingungen / Admission
Für das Studium der Veterinärmedizin führt swissuniversities Anfang Juli einen Eignungstest durch, da die Anzahl Anmeldungen die Zahl der Studienplätze übersteigt. Die Veterinärmedizin Bern und Zürich zusammen vergeben rund 165 Studienplätze. In den letzten Jahren haben sich 4-5 Personen auf einen Studienplatz beworben. Es besteht eine Anmeldungsfrist (
15. Februar
), eine verspätete Anmeldung ist nicht möglich. Je nach Abschneiden im Eignungstest erfolgt die Studienplatzvergabe.
As the number of applications exceeds the number of study places, swissuniversities conducts an admission test at the beginning of July for veterinary medicine. Both Universities, Bern and Zurich, together allocate around 165 study places for Veterinary medicine. In recent years, 4-5 people have applied for a study place. There is an application deadline (
15 February
), late registration is not possible. Places are allocated depending on the results of the aptitude test.
Pour les études de médecine vétérinaire, swissuniversities organise un test d'aptitudes début juillet, le nombre d'inscriptions dépassant le nombre de places d'études. Ensemble, les facultés de médecine vétérinaire de Berne et de Zurich attribuent environ 165 places d'études. Ces dernières années, 4 à 5 personnes ont posé leur candidature pour une place d'études. Il existe un délai d'inscription (
15 février
), une inscription tardive n'est pas possible. L'attribution des places d'études dépend des résultats obtenus au test d'aptitude.
Rechtliche Bestimmungen für ausländische Studienanwärter
Der Anhang 2 zu Artikel 11 Zulassung ausländischer Studienanwärterinnen und Studienanwärter regelt welche ausländischen Studienanwärter*innen zum Veterinärmedizinstudium in der Schweiz zugelassen sind.
Annex 2 to Article 11 Admission of foreign prospective students regulates which foreign prospective students are admitted to the study of veterinary medicine in Switzerland.
L'annexe 2 à l'article 11 Admission des candidats et candidates étrangers règle quels candidats et candidates étrangers* sont admis aux études de médecine vétérinaire en Suisse.
Anmeldung zum Eignungstest/ Registration admission test
Anmeldung bis
15. Februar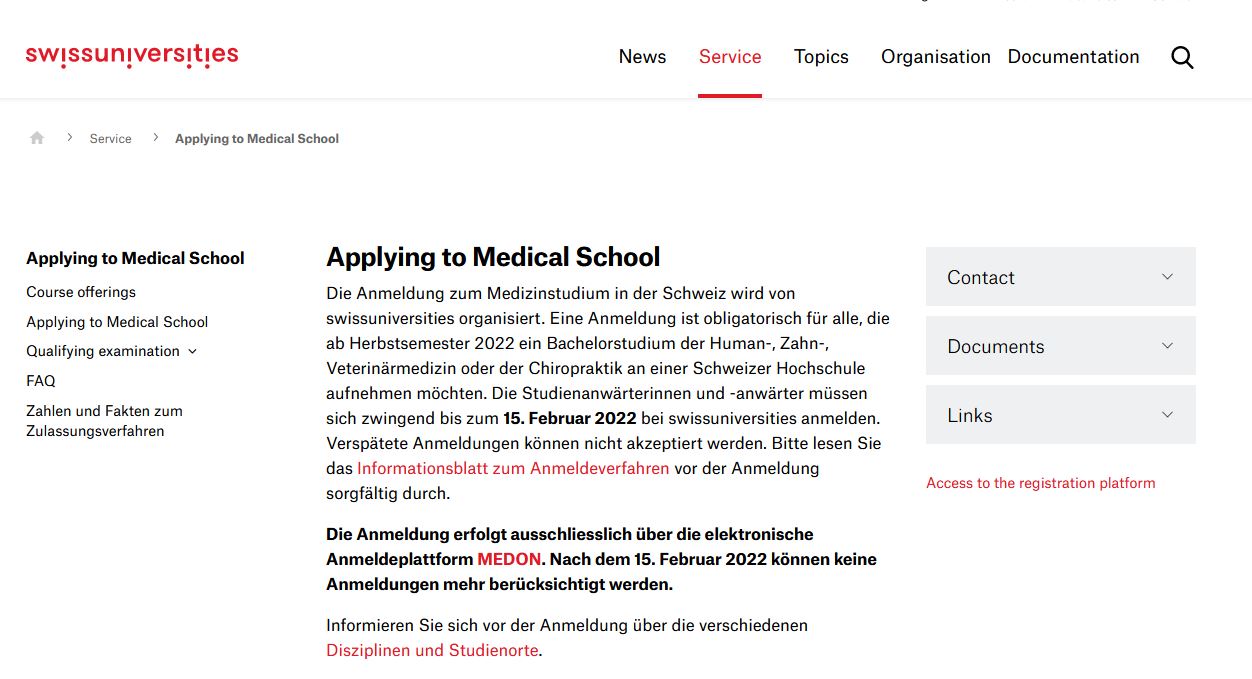 Einstufungsreglement / Regulation Grading
Das Einstufungsreglement regelt Fragen zur fachlichen Zulassung (Einstufung) und zum Immatrikulationsstatus von Studierenden der Veterinärmedizin an der Vetsuisse-Fakultät Universität Bern, sofern sie nicht durch eidgenössische, kantonale oder universitäre Gesetze oder Reglemente oder durch Abkommen zwischen den Kantonen Zürich und Bern geregelt sind. Dies insbesondere im Hinblick auf die beschränkte Zahl von Studienplätzen in der Veterinärmedizin.
The regulation govers questions relating to subject-related admission (classification) and the enrolment status of students of veterinary medicine at the Vetsuisse Faculty of the University of Bern, insofar as they are not regulated by federal, cantonal or university laws or regulations or by agreements between regulations or by agreements between the cantons of Zurich and Bern are regulated. This is particularly the case in view of the limited number of study places in veterinary medicine.
Le présent règlement règle les questions relatives à l'admission spécialisée (classification) et au statut d'immatriculation des étudiants en médecine vétérinaire à la Faculté Vetsuisse de l'Université de Berne, dans la mesure où elles ne sont pas régies par des lois ou des règlements fédéraux, cantonaux ou universitaires ou par des accords entre les cantons de Zurich et de Berne. Ceci en particulier au vu du nombre limité de places d'études en médecine vétérinaire.